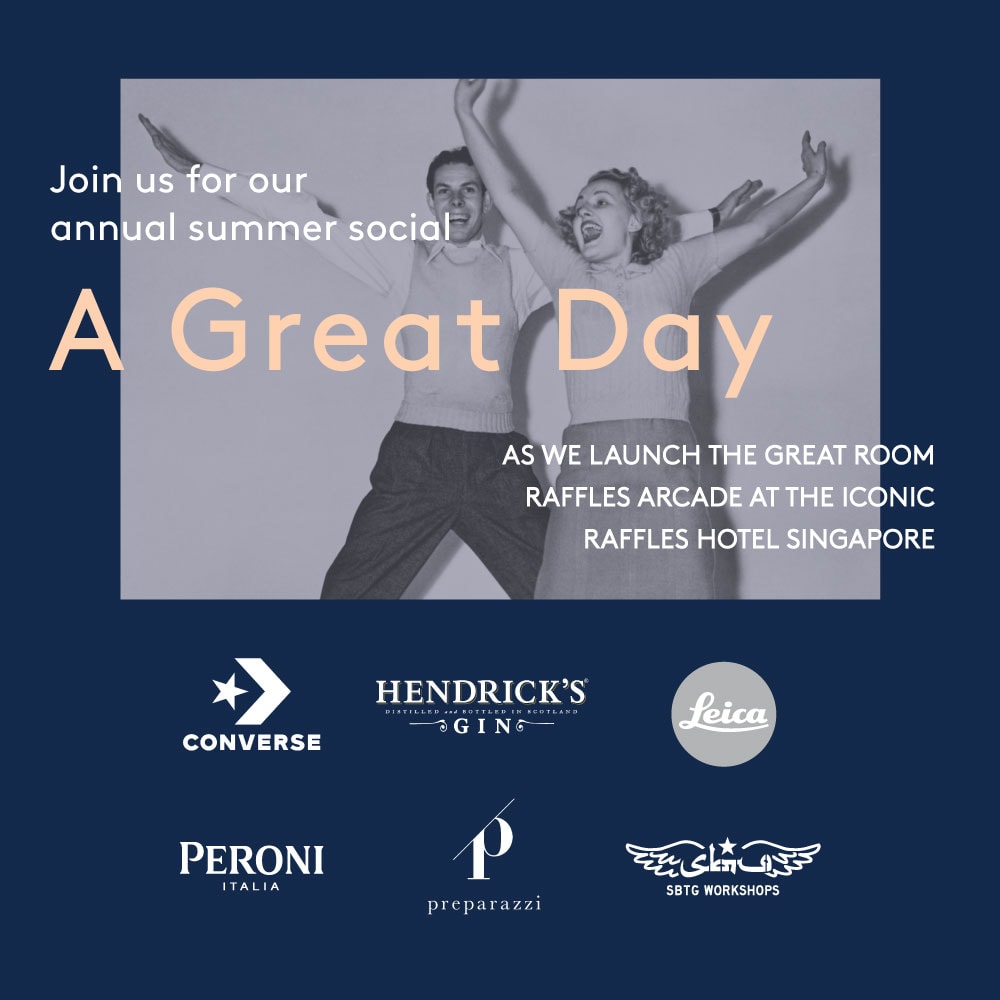 Join us for our annual summer social 'A Great Day' as we launch The Great Room Raffles Arcade at the iconic Raffles Hotel Singapore. We invite you to unlock your creativity with a series of experiences that celebrate artistry, passion and inspiration.
Hear of what fuelled legendary writers with A Genteel Tipple Through Gin Literature by Hendrick's Gin, whilst sipping on cocktails crafted with finesse. Score street cred as you customise your very own kicks with SBTG and Converse. Be in great company at our Leica photo gallery and get your portrait shot by Munster.
A cold brew that hits you with a caffeine-zing, ice cold Peroni beer and gourmet Mod-sin bites by Preparazzi will satiate your taste buds (and energy levels!) throughout.
▶ Ticketed Experiences start at 4:00pm
▶ Party starts at 5:30pm. Cocktails, beer and food will only be served from 5:30pm. Keep your eyes peeled for a surprise performance before the sun sets.
▻ SBTG x Converse Sneaker Customisation Workshop ◅
4:00pm to 6:00pm
25 seats available
$80 (Members), $120 (Non Members)
Ticket includes a pair of Converse sneakers.
Book your seat here: https://sneakerworkshop.peatix.com
▻ A Genteel Tipple through Gin Literature with Hendrick's Gin ◅
4:00pm to 5:15pm
50 seats available
Complimentary for Members with code sent via member e-newsletter, $50 for Non Members
Book your seat here: https://agenteeltipple.peatix.com
Please alight at the Raffles Arcade Drop off point by North Bridge Road.
Members, Invited guests & adults only
Register