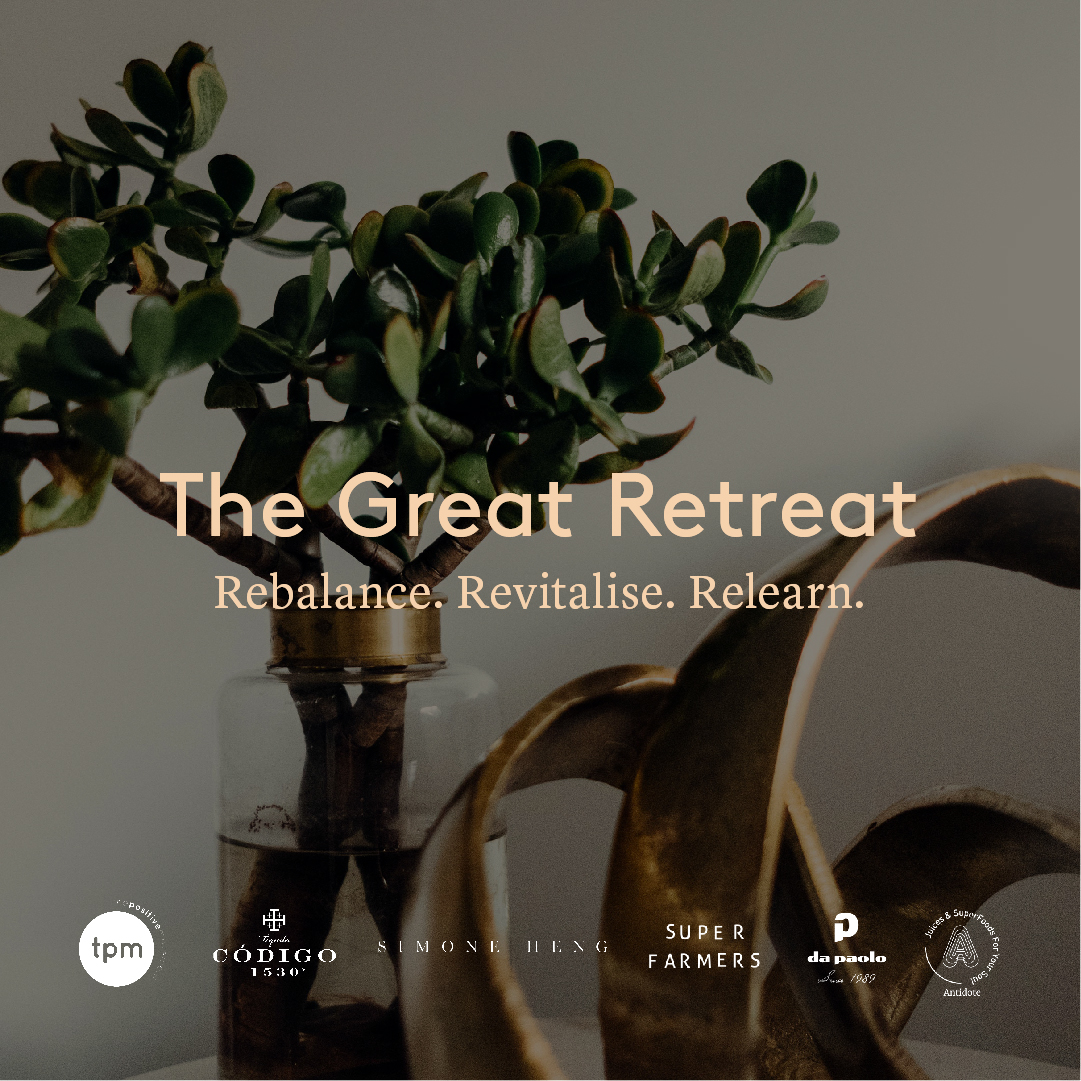 Join us for a day of workshops and activations to focus on ourselves to come back stronger for the new year.
In-between activities, we'll have you grazing on light bites from Da Paolo and sipping on detox potions by Antidote. Any last-minute shoppers out there? No worries. Our Holiday Marketplace means you'll be ahead of gifting for family and friends. And don't forget to stop by our Great Balance photobooth, where you'll strike a pose to show us how you balance work and play!
Due to COVID-19 restrictions, The Great Retreat will be split into 2 sessions with exclusive workshops. Should you be interested in both sessions, please contact [email protected]
____________
SESSION A
Urban Farming Workshop by Super Farmers
2:00pm – 3:00pm
Get green and nerdy with a learning session on Microgreens. You'll get the full farmer's lowdown on growing, caring, and harvesting your greens, and a live demo to show you how to cook your greens like a pro.
Participants will receive an Urban Farming Kit for the workshop.
Power of Human Connection by Simone Heng
3:00pm – 4:00pm
Master the art of human connection and make it the most powerful skill you have. Simone Heng will coach you on how to connect with people profoundly and memorably.
Simone is a human connection specialist and former international broadcaster.
____________
SESSION B
Psychology-based Rituals for The Mind and Soul by The Positive Movement
4:00pm – 5:00pm
The Positive Movement explores the science behind well-being through a series of reflections and positive psychology-based rituals. These rituals are aimed to help you re-focus and re-charge for the new year.
Shake It Up – Create The Perfect Cocktail
5:00pm – 6:00pm
Is anybody else assuming the bartender role whilst WFH? Amoy Beverage Corp bartender Vojta Bazant shows us how to master two cocktail recipes. You'll leave with a shaker, jigger, agave and mini tequila gift set to recreate a perfect cocktail back at home.
____________
Massage Parlour
2:00pm – 6:00pm
This is the part that we get to really let go of the year's challenges. Rejuvenate with a neck and shoulder massage to relieve stress, loosen those knots and say goodbye to any built up tension. A relaxed body is the best way to re-learn at the workshops!
Strictly for The Great Room Members only, RSVP here!