Masterclass: Nailing Virtual Meetings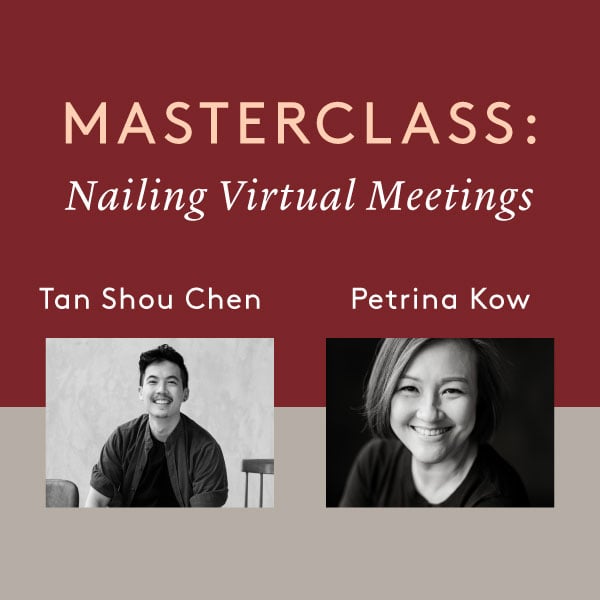 14, 19 & 21 May
Singapore, Hong Kong (UTC+8): 12pm – 1pm
Bangkok (UTC+7): 11am – 12pm
All-inclusive for 3 sessions: S$60/pax | Bring a Buddy rate: S$50/pax
You're all set for your video call; perfect lighting, ergonomic home office, optimum camera angle, perfectly brewed coffee and dressed like you're going to boss it from the waist up. Now, it's time to engage, connect, and impact a virtual room through a 13" screen.
We're kickstarting our Masterclass series with a 3-session hourly workshop on human communication in the virtual world hosted by Communications Strategist, Tan Shou Chen and Voice and Presentation Coach, Petrina Kow on how to nail your virtual meetings.
Designed to help you better connect with the people on the other side of your laptop, learn about the world of non-verbal nuances that come with human communication and walk away with tools you can apply on your next video call. Grounded in public-speaking, media training and acting curriculum, this series aims to help great people with great ideas bridge the digital divide for better impact.
Who is this for?
Opinion-leaders who would like to better communicate with audiences using video-conferencing or livestreams
Facilitators or modulators who are using video-conferencing more during safe-distancing period
Team leaders who utilize more video—conferencing to in lieu of face-to-face meetings
Business teams who use video-conferencing to bridge physical distances
Individuals who know video-conferencing software but want to be more productive
Attendees will receive notes on key learning points and access to a closed Facebook group for continued interaction with the hosts and fellow attendees. Should you be unable to attend a particular session, a recording of the session will be shared.
About the speakers:
Tan Shou Chen is a recognised director and actor with a unique corporate background: he has extensive expertise as a communications consultant serving blue-chip MNCs across a variety of industries including FMCG, government and entertainment.
Shou Chen is passionate about the use of dramatic practice towards improving communication processes and learning. In addition to consulting, Shou Chen is also an educator. Shou Chen has taught communications at the National University of Singapore and at the Singapore University of Social Sciences (SUSS).
He continues to apply his background in psychology and communication theory in the rehearsal room, and in the work he creates for the mainstage, or in corporate training.
Shou Chen's has performed in and created works that have been seen in Thailand, France, China, Portugal and Singapore.
–
Petrina Kow is a Voice and Presentation Coach based in Singapore and the founder of Vocal Presence Pte Ltd. She has a versatile and warm coaching style and has experience training people from different backgrounds such as CEOs, professionals, teachers and students.
She runs workshops on presentation skills, voice, and storytelling at corporate companies and also brings experts in the field of Voice and Singing to Singapore. She is a much sought after voice actor for commercials, audio guides, online learning websites and animation. She was a radio deejay and talk show host on various top radio stations in Singapore and is also a popular emcee for corporate and family events. She is the first and only Singaporean at the moment who is certified as an Assistant Teacher of Fitzmaurice Voicework® method.
Registration ends on 13 May 2020.