The Hong Kong Arts Collective Exhibition at The Great Room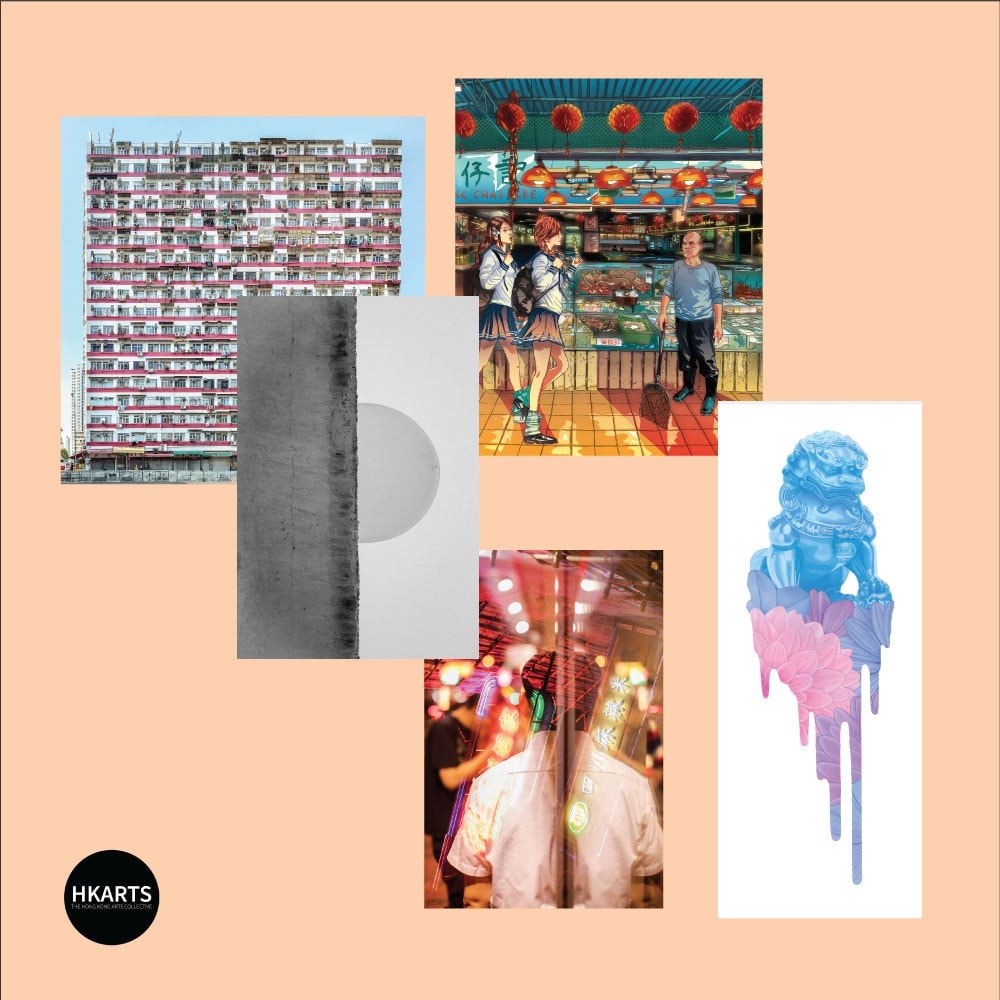 The collection of work features rising and established artists throughout Hong Kong in a wide range of mediums from photography to painting.
The Hong Kong Arts Collective aims to act as a stepping stone to nurture both emerging and established artists throughout Hong Kong. Through a constant series of exhibitions, workshops and artist talks, The Hong Kong Arts Collective aims to promote and showcase local art to a larger audience and give local artists the platform they deserve. To learn more, click here.
Simply drop by!
For further questions, email us at [email protected]
________________________________________________________________
Learn more about the 12 Artists:
Marc Allante – Hong Kong born artist Marc Allante exhibited a passion for the visual arts from an early age. Having lived in Hong Kong, Sydney and London, his work is inspired in both form and style by these western and eastern influences. Merging traditional Chinese inks with European painting techniques in a contemporary style reflects the fusion of his Chinese-French ancestry and brings it into a modern context.
Christopher Button – inspirations are drawn from the cinema and the city. The influence of the films of Lynch, Kubrick and Tarkovsky are easily identifiable in his work. His quiet yet cinematic images look to explore the inner life of his subjects. Gently unraveling the confines which surround us all, exposing venerability in darkness and beauty.
Kyra Campbell – is a British born photographer who moved to Hong Kong after earning her degrees in London. Her personal work is for the most part shot on 35mm film. Enjoying working in a darkroom where possible. Her current projects are shot as in-camera double exposure. Along with working in film she photographs everyday life of different cultures.
Jo Farrell – is an award-winning black and white photographer and cultural anthropologist. Born in London, England she has been based in Hong Kong for the past 12 years. Jo uses black and white film and shoots on Hassleblad. She has been the recipient of numerous awards for her work on bound feet including a Jacob Riis Award, Black & White Spider Award, Center for Fine Art Photography and Women In Photography International winner juried by Mary Ellen Mark.
Stefan Irvine – Born in London in 1976, Stefan Irvine has been based in Hong Kong since 2002. With a background in photojournalism and commercial photography, the last few years have seen him focus on fine art photography projects. Stefan's photographs have been exhibited in New York, London and Hong Kong, as well as appearing in publications including The New York Times, National Geographic, and The Wall Street Journal.
Michael Kistler – is a Hong Kong artist specializing in fine art street photography. Originally from Minneapolis, he started shooting on a compact Ricoh and after many years travelling he settled in Tokyo before moving with his family to Hong Kong in 2014. His time in Tokyo was instrumental to the development of his photographic style as he experimented with blur, movement and other abstract elements while drawing inspiration from street masters like Daido Moriyama and Saul Leiter.
Jonathan Jay Lee – Based in Hong Kong, Taiwanese-American born Jonathan Jay Lee graduated with Departmental Honors in Illustration from Parsons School of Design. He is an award-winning illustrator who's clients have included Marvel Comics, Heavy Metal Magazine, San Miguel, Lamborghini, Lee Kum Kee, Ho Lee Fook, Urban Decay and HSBC. He also teaches courses as a Professor of Illustration and Sequential Art at Savannah College of Art and Design at the Hong Kong campus.
Shann Larsson -is a mixed media artist and designer based in Hong Kong. Inspired by dualities present in nature, language and culture, her works often explore subconscious narratives that sit upon the fence of opposing ideas or emotions. Layer upon layer in fragmented forms, her use of line and color with their textural nuances create a push and pull within the work. Shann has resided in Hong Kong since1998. Prior to this, her homes have included Indonesia, Sweden and Germany, where she was born.
Camille Levert – A freelance photographer since 2009 Camille Levert has spent years developing her own collage technique which allows her to push the boundaries of photography and explore concepts of time layers and reality distortions. A rising star in the Hong Kong art scene, she has enjoyed numerous exhbitions and was recently awarded the People's Choice Award at the Hong Kong Affordable Art Fair.
Eleanor McColl -work is rooted in place with a focus on the urban environment. Her work draws the eye to the often unnoticed details of the city, casting the "shadows on the wall" of the modern human condition: often solitary, hardworking and hardwearing. Through manipulation of focus, her work explores the delicate points of contact in the otherwise ceaseless blur of the everyday anonymous citizen.
Harold de Puymorin – Originally from Toulouse, France and now living and working in Hong Kong as a full-time photographer, Harold de Puymorin splits his time between commissioned work and personal projects. His personal work stretches from digital to film photography and explores his own thoughts behind photography. For him the moment is more important than the picture itself. "Life is to be lived and to be enjoyed, and if we are lucky, we are able to freeze small glimpses of its experiences within a frame."
Pete Ross – Born in Hong Kong, Pete Ross graduated with a masters in Architecture which heavily influenced his work. Fascinated by the built environment his work explores memory, time and contradictions of city life. After winning the People's Prize at Asia Contemporary he has gone on to enjoy exhibitions in Hong Kong, London and New York. A illustrator as well as artist his clients have included Cathay Pacific, Hongkong Land, the Hong Kong History Museum and Swire Properties.